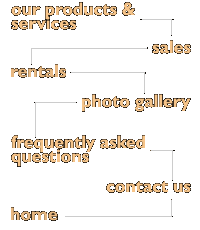 FREQUENTLY ASKED QUESTIONS
Must we always maintain a 3x4 aspect ratio?
No, processing systems are available which enable the panels to be assembled and displayed in a variety of formats and display sizes from 640x480 VGA to 1024x768 XGA. You may therefore assemble a screen which is 5 panels high x 5 panels wide, or use your imagination to create a "ticker type" screen which measures 1 panel high x 100+ panels wide, enough to circle the interior of an arena or stadium.
How long does it take to set-up a display?
Each indoor and outdoor display panel is modular and configured in the same manner with a locking "Kingpin" at the top and a cam lock on the side of each panel. This enables each panel to be quickly attached to the panel above and/or below it, much like LEGOŽ building blocks. A truss system designed specifically for the Lighthouse panels is available for suspended installations. Typically, a suspended display measuring 10'H x 13'W (Indoor) or 16'H x 21'W (Outdoor) installed on a pre-existing truss system may be operational within 2 hours. If a truss tower must first be erected, set-up may require 4-6 hours. Tear-down or "strike" typically takes from 1-2 hours, depending on screen size.
What is the normal delivery time for the panels?
Indoor panels may be available in as little as two (2) weeks for a 10'H x 13'W screen (36 panels). Due to increased demand, Lighthouse Technologies often maintains a sufficient quantity to satisfy the immediate requirements of even our most demanding clients. Outdoor panels normally require 6-8 weeks for delivery.
What is the expected life of the display?
LEDs (Light Emitting Diodes) are rated at 100,000 hours and 50,000 hours to half-life or one-half its original brightness. The normal video image uses approximately 15% of an LEDs full capability, with full brightness defined as a solid white screen image. Under normal conditions, an LED display showing a video image and operating 24 hours a day, 7 days a week would last for 10+ years.